**note: this is also the best way i know of to make money on a low level.**
The stalls that you thieve from are located a little bit west of the skills area teleport house.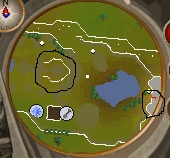 From 1-50 you should start by thieving silk, giving 25k per steal and taking about 15 minutes to complete..
From 50-80 it is time for the silver stall, rewarding 50k per steal and taking about 1 hour ( I have to geuss on this because I split up this time into multiple parts) to complete..
Finally! The third and final leg of your journey to 99 thieving! *drum roll please* for 80-99 thieving you steal from the famous gem stall! Rewarding 100k per steal, and taking 10-15 minutes, you have finally reached 99 thieving!
Now...after an hour and a half of pestilient thieving.. i present to you.. the thieving skillcape!
After getting 99 thieving, you have earned about 58m.. earning about 645k each minute, or 38,700,000(38.7m) each hour.
**Note: there has been people saying that thieving silk from 1-99 is the fastest way to go.. I do NOT know if this is true, thought while i was stealing gems i tested it and the gems were faster, so i believe that this is both the fastest and most money-making way to go. Congratulations on 99 thieving!**